So lately mommy has been ALL about saving money. She has been looking for all the best deals and even gets excited when she sees the savings at the bottom of the receipts...what a nerd! Well in an effort to save some money and to keep me super healthy mommy started making all my baby food! A friend of hers, Jen, told her about a website called wholesomebabyfood.com and she spent hrs on it the other night after I went to bed....like I said, what a nerd! So Friday when mommy got off work she picked me up from nana's house and we went to the grocery store to get some fruits and veggies for my baby food. That took a while...mommy said it was because school was starting back for the big kids so all the other mommies were out buying school supplies....all I know is that I was TIRED!!! I feel asleep in the car on the way home....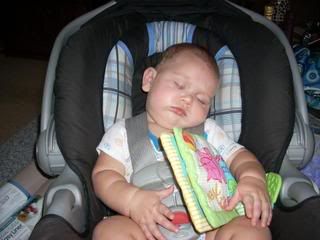 Apparently while I was taking my nap mommy made a BIG mess in the kitchen!!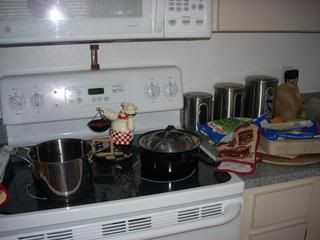 She eventually got it all cleaned up and made Apples, Banana-Apple Mash, Sweet Peas, Green Beans, Sweet Potatoes, and Avocados!! She still has Peaches and Pears to make but she said she has to wait until they are ripe. Here is me with all the baby food!!! yea...real cute mom...stick frozen baby food all over me!!!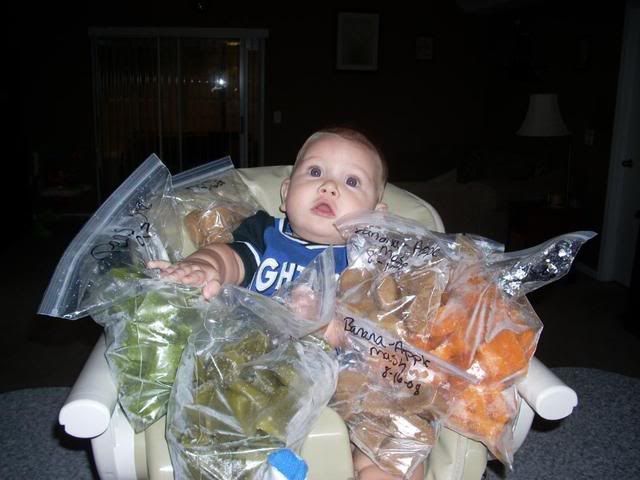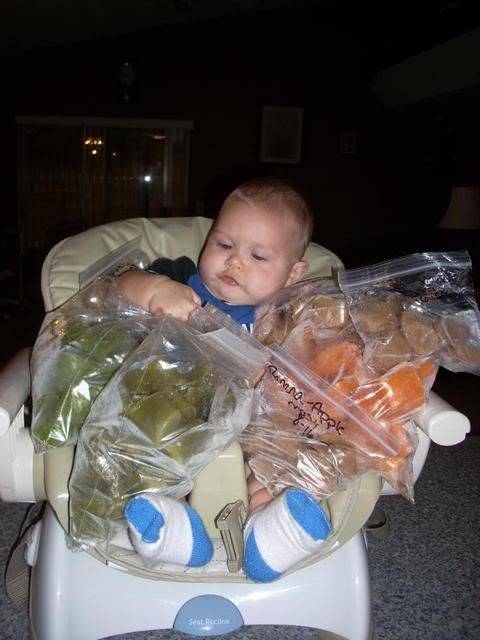 She freezes it in ice cube trays( yep its good in the freezer for 3 months!!), then empties them once frozen and puts them in zip lock bags with labels. Each food cube is 1 oz of baby food! So yea...I have plenty of food for a while!!!! Mommy wanted me to tell you all the savings....again...nerd
So she had her receipt in her pants and washed them! But she can pretty much remember how much everything was....she spend about $18 on everything. All in all she made 176 cubes of baby food!!!! Thats equal to a little over 70 stage 1 jars (2.5oz) and a little over 35 jars of stage 2 (5 ozs) I am eating about 4 cubes...so somewhere in the middle! If my mommy bought Earth's Best brand its .99 a jar for the stage 2 so it would have cost her over 35 bucks with tax!!! But it didn't even cost her 20! I don't really care that she is saving...I am just happy that its so yummy! Here I am eating the final product!! Homemade sweet potatoes...fresh out of the oven too!!!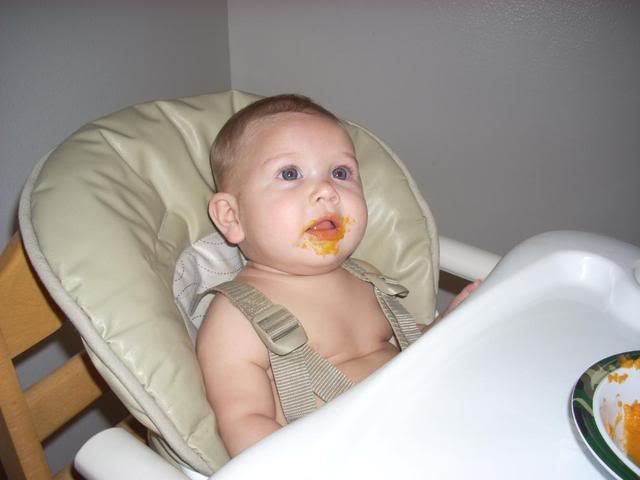 Aunt Stephanie was feeding them to me....she needs to take lesson on feeding me from mommy...she just doesn't do it fast enough! Exspecially with something like fresh, still warm sweet potatoes!!

wow...what a day! All that grocery shopping...then having to watch mommy cook all that food, then eating all those sweet potatoes! I was so tired that I feel asleep in daddy's arms while he was playing nascar!