Not the REAL batman silly!...just me dressed as batman again! Thursday mommy and daddy took me to Disney World for "Mickey's Not So Scary Halloween"! I had sooo much fun...even though it rained a ton!!!! I didn't get wet at all though...thats a big benefit of being a baby...ha...mommy and daddy were soaked...but made sure I didn't get a drop of rain on me!
For Mickey's Not So Scary Halloween everyone gets to dress up and go treat or treating and ride rides! I of course went as batman, mommy went as batgirl, and daddy went as...well... just daddy...he is lame and didn't wanna dress up! mommy's friend Kylee(she's pregnant) went as "pregtastic" a pregnant superhero she made up....I really liked her big superhero symbol "P" on her belly! I keep pulling on it! Oh and her husband Cal went as Superman! I really liked his fake muscles and cape! My girlfriend Brilei also went...her family didn't do the superhero theme...they did Peter Pan, she was Tinkerbell, her mommy was Wendy, and her daddy was Peter Pan. Some of the characters were even dressed up like ghosts and stuff! Oh and I got to trick or treat! Well...actually I only did it once! Then I fell asleep...but don't worry! My mommy kept treat or treating for me...and her! I wish I could eat all that candy she got! It was soooo much!!! Maybe she will let me next year.
Oh ....and the best part of the night,....I got to ride some rides!!!! My first ride was Buzz Lightyear's Space Ranger's Spin! It was soooo cool! Kylee thought it would scare me because it was dark...ha..scare me... ya right!!! It was the coolest ride ever! It had all these aliens and stuff that you shoot at with your laser gun...mommy and daddy thought it was really funny because the first thing I did when we got in the coaster was grab the laser! I wanted to shoot some aliens! And I did!!!It was so fun!


Here are some pics of us at Disney....
Mommy would have taken more pictures...like of Kylee's super cool costume and my girlfriend Brilei...but before she had a chance it started pouring down rain! And you know how girls are...once they get wet and their hair is messed up they don't wanna even hear the word picture!

Here is me, mommy, and daddy in front of the Cinderella's castle...it was soo cool, they had the castle lit up in blue and the clock on it kept changing spooky colors!!(oh and daddy only agreed to the picture if he didn't have to smile in it...he is so silly!)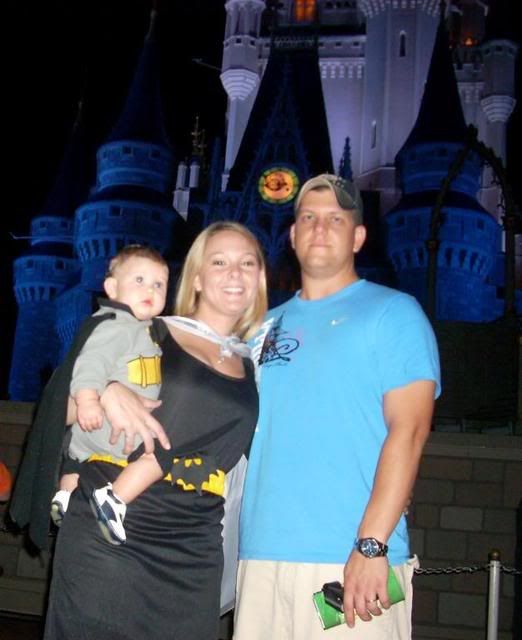 Chillin in my stroller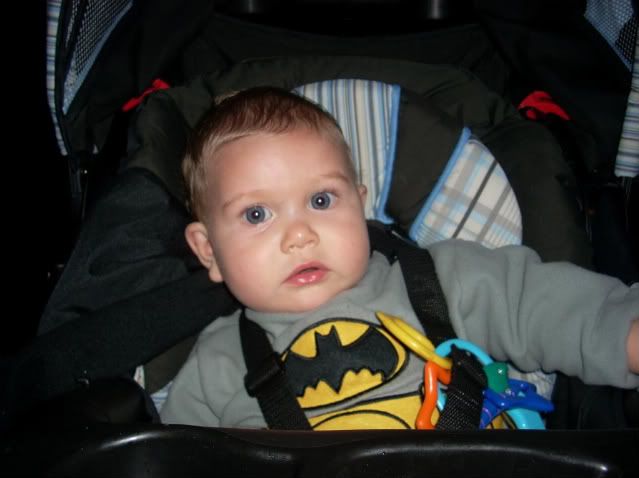 mommy and me..I was paying attention to the candy that was next to me!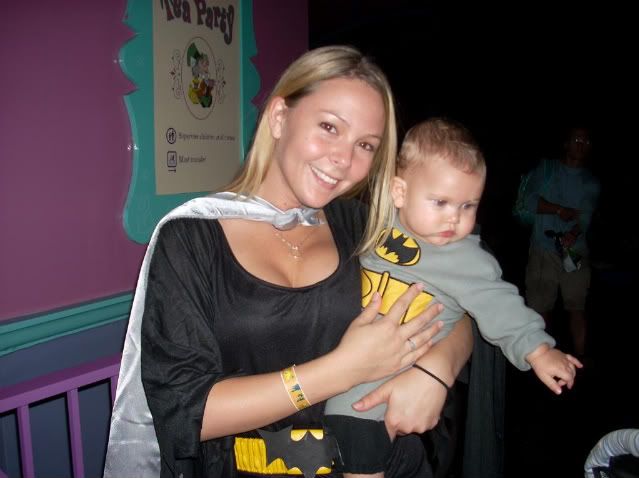 Kylee dancing with me at the "dance party" ..told you i really liked Cal's cape!



mommy and me in front of the castle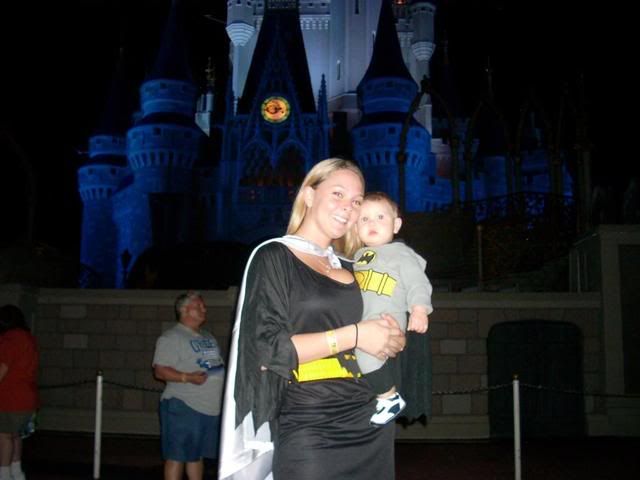 I really hope mommy and daddy take me back next year... I really wanna beat daddy's score on the Buzz ride!